Twitter and Google are back together
Twitter and Google sitting in a tree..
Twitter,  which is used and abused regularly by more than 248 million people around the world has just become Best Friends Forever with Google. The site, which allows users to share their thoughts quickly in response to unfolding events as well as the ability to reach out and "communicate" with celebrities has been hampered in recent years by a lack of cooperation between itself and the search giant the Big G.
Since 2011, when the two parties failed to renew a previous agreement; users tweets stopped being automatically indexed by Google making them unable to be searched for :( Luckily for everyone this is soon about to change :)
OK, so what effect will this agreement have?
Firstly, tweets will be searchable on Google in the first half of 2015, also Google will benefit from the agreement simply because it makes the already dominant search engine even more robust with the ability to search tweets. Boom!
It's competitor: (hahaha – they wish) Bing, currently has this ability already, so it should allow Google to stay on top of its competition.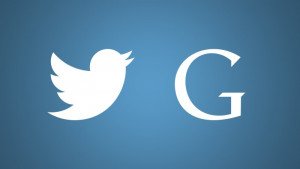 For Twitter, the ability to search for tweets will inevitably lead to more searchers being directed to Twitter and ideally, more people using their website.
Furthermore the users of Twitter benefit by being able to have their tweets found more easily, increasing the traffic to their twitter accounts which they can then divert to their main blogs or websites.
How we are is affected
With this agreement coming into action in the next few months, Twitter will become a much bigger player in the UK than it already was, with increased potential as a direct tool for online marketing or SEO Consultants as well as a useful way to drive traffic elsewhere.
For an experienced Liverpool SEO service like the one provided by us at PD, Twitter could be a very influential tool for boosting a clients business through the use of relevant and up to date Tweets which would then show up immediately in a Google search.
Once found by a searcher they would at the very least be sent to a clients Twitter account, thereby boosting a businesses on-line profile. But also from there they could be directed to the clients website or a relevant blog; further boosting the clients online presence or better yet, being turned directly into custom for the client. So make no mistake – Twitter is really something to look out for in the future of SEO.