Keeping you all up to date
We've made a few changes recently that we think you should all be kept up to date with – especially our recent re-brand and site move. We realise that it might be a bit confusing as a company to change things like this so suddenly, but it's actually been a lot of long decisions that have taken form very quickly!
Still the top digital agency in Liverpool
As one of our ongoing customers, you might be wondering why you'd previously been dealing with Pete Duffy/Pirl Media, and suddenly you're getting phone calls and emails from Foundd Marketing. The simple answer is that we've decided to rebrand!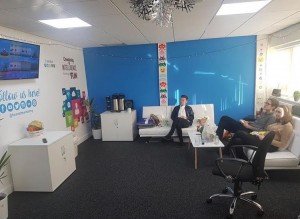 It isn't a decision that came easy to us, as we know that it can be difficult as one of the top internet marketing companies in Liverpool to re-brand ourselves.
However, we felt that it was the right decision to take since we have started to move into new territory – we've now began to work on our client's social media and web development as well.
As well as this, we've also been looking to find a new office for some time now. We've had a great increase in the amount of clients we're dealing with, as well as some new team members joining us, so we decided that it was time we found an office space that matched what we needed.
We managed to find an amazing space in Anfield Business Centre, which came to us out of nowhere and was a quick move. Now, with a lot more space and a great area for us all to relax and meet clients, we're happy with our new home.
Katherine's Killer Comment
Even after our rebrand, we're still happy to be considered Liverpool and the Wirral's top SEO company, and will continue from now on as the best digital agency in Liverpool as well.
We have new social media for you to find us on, and our brand new website will be available shortly – but for now you can still contact us here or on our phone number: 0151 329 2988.